The Folks at 30A Realty
Mickey Whitaker, CEO
Mickey Whitaker is our CEO. He is probably the most laid back guy we ever knew. Most people like to have Mickey working for them because he always seems to be able to put things together to everyone's satisfaction.
Alice Forrester, Designated Broker
Alice Forrester is our designated broker and has watched this area grow since 1984 when she entered the real estate business here. She knows about the sales history and trends in our area as well as anybody.
Our Office: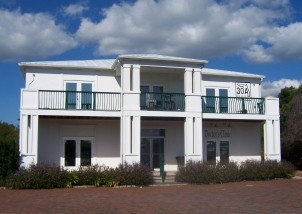 Our Main Office in Seagrove Beach, Florida Our office is located in Seagrove Beach, just behind Angelina's restaurant and Centennial Bank. To contact any of our associates, visit our contact page.
More About Alice...
"I moved to this area in June of 1984, when the area was really just starting to grow, and the town of Seaside was just beginning and maybe had only 5 houses. I started my real estate career working for the developer of Seagrove Beach, C. H. McGee and learned all about the Seagrove Beach area.
I opened my own real estate company, 30A Realty, Inc. with my business partner, Mickey Whitaker, in 1995 and we have a combined 50 years of experience in this South Walton Beach area. We started out small but quickly grew to 4 offices during the boom, but with the bad economy we have gone back to our original one office in Seagrove and to serve our community as we have always done.
I am a member of the Emerald Coast Association of Realtors as well as the Bay County Association of Realtors. I have served on the Emerald Coast Association of Realtors Board as the South Walton Chairman. I was voted the Realtor of the Year in 1998 for South Walton and the President Award in 1993. I am a member of the Walton County Chamber of Commerce and received the Ambassador of the Year award two years in a row, 1996-1998.
I have been involved in numerous community activities, such as Viacoloria at Seaside Charter School, Art Quest, South Walton High School, Bay Elementary and Butler Elementary, Habitat for Humanity. We have been marketing properties in the South Walton Area since 1984 and continue to be one of the top realtors and top 20 agencies in the area.
We have been involved with numerous developments in the South Walton area such as the Village of South Walton, Seacrest Beach, Seagrove Highlands, Rolling Tide Condos and many other projects throughout Walton and Bay and Washington Counties.
My business partner and my sales associates and I have a working acknowledge of this area for 30 years and understand its growth and developement. My agency has knowledgable and professional agents who grew up in this community and have continued to live and raise their families here in South Walton. We specialize in handling investment properties, second homes, developments and pernanent resident for buyers and sellers."